Digital Marketing services
We target relevant audiences interested in your products and services with an ad-hoc marketing strategy, we arouse the interest of your prospects with original and fresh ADV or organic campaigns, we intercept your prospect clients at every stage of their experience on your site with effective and timely communication.

The most important thing? We rely on data and always optimise our strategy.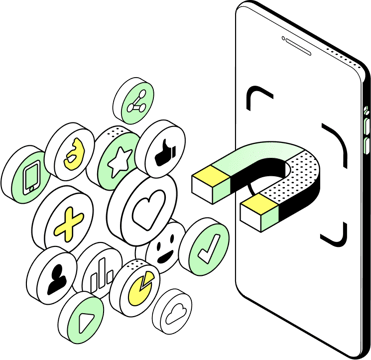 Why our Digital Marketing services?
We are the kind of digital marketing agency you don't meet every day: we don't just respond to your needs in the short term, we devise digital strategies to achieve your business goals and we are always questioning them, optimising and improving them regularly to help you create value and keep it over time.
Learn about our services:
To increase traffic to your web pages
To get to know your audience and their behaviour closely
To effectively reach your prospect clients
To better communicate your products and services
To be found on search engines
To promote your brand and improve your reputation
To manage your digital presence on all channels
SPOILER: FOR EVERYONE!
Who is our Digital Marketing services designed for?
The real question is: is there anyone who does not need a marketing strategy?
1
For those who want to increase customers and reach new targets
You can reach new users and expand your geographical boundaries.
2
For those wishing to increase Brand Awareness
Improve your web positioning and reputation.
3
For those who want to improve their communication
Intercept your users during their customer journey in effective and personalised ways.
4
For those who believe in the power of analytics
Monitor analytics in real time and keep track of your performance.
We help you define a business growth strategy, measurable and tailored to your objectives
Would you like to be among the first results on search engines? Our Digital Marketing Team is always up-to-date on the dynamics of the web and algorithms and is familiar with indexing mechanisms. Our SEO services include:
Keyword Analysis
A detailed analysis of the words most searched for by users and on which to base content writing to rank on search engines.
SEO Audit
We assess the authority of your website and suggest customised strategies for improvement.
Local SEO
All activities aimed at positioning your company among the first when users perform local searches.
SEO Content
We can take care of the actual writing of content, optimised and written in an SEO-friendly manner, or offer our copy editing and SEO micro copy service.
Link Building
We check the authority of sites that mention your company and propose a customised strategy to improve your partnerships and share management.
Our team is made up of people with an important background in planning and managing paid campaigns on Google and Bing, and social media sponsorships.
Anyone can become an advertiser, the advantage of choosing a Digital Marketing agency like ours is that there will be no waste of your resources and budget:
Search campaigns
We make your ads appear when users search for your services and products on search engines.
Display and video campaigns
We display your illustrated ads or videos to your target users within millions of websites, news pages, blogs and Google sites such as Gmail and YouTube.
Social ADV
We reach your users within social networks, selecting the right target and content to achieve your goals.
Remarketing
We help you target your campaigns to users who have already interacted with your site or content
Writing about your company, proposing topics relevant to your business is important, but writing in a goal-oriented manner is crucial.
We take care of your content:
Blog
Blog posts on agreed topics, written for SEO positioning
Presentations
We take care of your institutional documents, finding the right tone of voice to present a project, your corporate culture, your values.
Social Media
We populate your social media with valuable content, devise posts and stories, seek out hashtags with the right search volumes, write descriptions, biographies on the various pages.
Website
We take care of revising or rewriting the content of your web pages or product/service landing pages.
Our email marketing service is turnkey. With HubSpot you don't just get a platform to send out newsletters and manage templates. You get a tool that allows you to do much more:
Segment
HubSpot was born as a CRM, so you can segment your database according to the specific needs of the moment.
Automate
HubSpot not only allows you to perform normal email marketing tasks, such as scheduling emails, but also enables you to automate processes and send specific emails based on settings you customise yourself.
Customise
Email Marketing on HubSpot allows you to indulge graphically and add various types of multimedia content without any particular limitations.
Analyse
Doing Email Marketing with HubSpot also allows you to have real-time analytics and benchmarks to compare with other companies in the same line of business.
With our technology partner HubSpot, we not only relieve you of the burden of monotonous and repetitive marketing tasks by automating processes, but also create a unique and personalised user experience.
Customised workflows
With our customised workflows we keep track of your users' behaviour and set up automated processes to intercept your target audience in the most suitable way and at the most suitable time.
Smart Content
HubSpot's Smart Content modules allow you to present different versions of your content according to user category. For example, you can create text alternatives for visitors from a certain country or for those viewing on a mobile device.
No more matching social campaign analytics with website and email marketing analytics. Thanks to HubSpot's technology, all data is accessible from the platform and customised dashboards can be created to make reading even more intuitive and faster.
Goals
We help you define, track and verify over time the growth objectives you need to pursue to achieve a return on your investment.
Dashboards and reports
With tools such as HubSpot, Google Analytics and Google Data Studio, it is possible to create simple and intuitive reports to track the progress of objectives over time.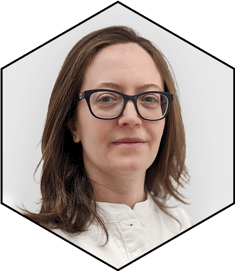 "Being able to track users from new contact to customer to brand promoter is every marketer's dream. The ability to track activities and results achievement is the real power of HubSpot."
Raffaella Sansoni
Head of Performance