Digital revolution, continuous changes, increasingly complex economic and business paradigms have led to the VUCA definition of today's environment: Volatile, Uncertain, Complex, Ambiguous. In this scenario, brand new concepts that were unthinkable only a few years ago were born: from Artificial Intelligence, to chatbots, to Blockchain. The speed of their spread points out the need to adapt, to accelerate the change within companies.

The human soul, which is by nature habitual and resistant to change, is even more afraid to abandon systems that "have always worked that way", in favor of something new.
Not surprisingly, according to Martec's Law, "technology evolves at an exponential rate, while human and social organizations evolve at a logarithmic rate." For businesses, the far-from-remote risk is therefore that, while technological progress is advancing at full speed, they will remain anchored in past successes, rejecting advancement and stagnating.
Instead, evidence shows that knowing how to manage innovation can generate 2.4 times more economic profit than competitors. However, the speed of transformation of these technologies, coupled with their specificity, makes it difficult for companies to succeed in implementing them and reaping the benefits.
To facilitate and enhance business operations, Augmented Consultancy, a consulting service that leverages technology to enhance the capabilities of human consultants, comes to the rescue.
"Digital transformation is a journey that needs a clear and defined destination, the appropriate vehicle to tackle the travel, and the right driver to get to the end goal."

(From the Web)
Augmented Consultants serve precisely as drivers, putting their expertise at the service of companies and guiding them through a rapidly changing technology landscape. In this sense, they can play a distinctive role in digital transformation because they help the company identify areas where technology can be used to improve the business.


Human-centered digital transformation
In their role as guides, Augmented Consultants accompany the customer in a process that starts with overcoming the cultural block: they provide him with all the tools to grasp the importance of embarking on this journey. The goal is to convey the potential of the tool in providing value to the client himself, then helping him to manage it and make the most of the opportunities that come with it.
Augmented consultancy becomes a form of human-centered digital transformation, that is, a transformation marked by bringing value to the human being. This is where Augmented Consultancy finds its place: it is not the sterile application of technological innovation, but a strategic plan to understand the company and its composition in order to devise a project that will perfect its mechanisms, bringing better results.


"Digital transformation is indispensable!" but why?
No one innovates simply for the sake of innovating: today, doing so is necessarily needed to stay relevant on the market and to keep up with competitors, but mostly because the consumer demands it. Convenience, today, takes the lead. Users need to be invited to buy, pampered, but always from the comfort of their couch. They want to stay up-to-date, to inform themselves about the products they are interested in, but on the channels they know and use on a daily basis. If the demand to use their channels to communicate is not met, they are not reached. Ultimately, companies must bring value to the consumer by adapting to their need for change.
"Technology by itself is not the disruptor. Not being customer-centric is the biggest threat to any business."

(Forbes)
But then, if digitization brings profit, why not use it? Augmented Consultancy is precisely for implementing those aspects of technology that are most strategically relevant to a specific business:
#1 Data analysis
The correlation between Augmented Consultancy and digital transformation is particularly relevant when it comes to data: technology helps the consultant collect data, the analysis of which is useful to develop a strategy that is always optimized and customized. In fact, thanks to data it is possible to gain insights regarding user behavior, building ad hoc marketing strategies with maximized efficiency and effectiveness.
#2 Focus on core aspects
The automation of some processes, made possible by the implementation of innovative tools, allows both the company and the consultant to focus on the most strategic aspects: on the one hand, the consultant will be able to use the collected data to structure a functional, customized and optimized strategy. On the other, the company will be able to invest time and resources not on punctual and repetitive tasks, but on issues that really make a difference to the business.
As evidenced by the ongoing aspect of analyzing data to constantly optimize strategy, Augmented Consultancy differs from traditional consulting in the constancy with which the collaboration is developed. The figure of the professional is no longer that of a "one-off" consultant, but that of a strategic partner who offers long-term support on the journey toward digital transformation that is undertaken together.
Not a marketing and branding agency in Ticino
This is the path we are pursuing in Ander Group: we have distanced ourselves from the classic figure of the marketing and branding agency.

We are not in the business of responding to a one-time need; we do not offer the single service of Social Media Management, Logo Design or Paid Advertising. Instead, we ensure your business growth, combining form and function to bring concrete results backed by data.

Starting with an assessment of the tools available to a brand and its environment, we go on to determine the best strategy for managing change and the tools best suited to enhance the company's development. Once implemented, we don't stop: our clients' growth is also ours, which is why we believe in continuous monitoring and optimization of our operations.

Our method also draws on collaborations with major technology partners, of the caliber of Goodcode, HubSpot, Abacus and NFS Group, for 360-degree support, driver and facilitator of digital transformation.

Do you want to build new opportunities for your business?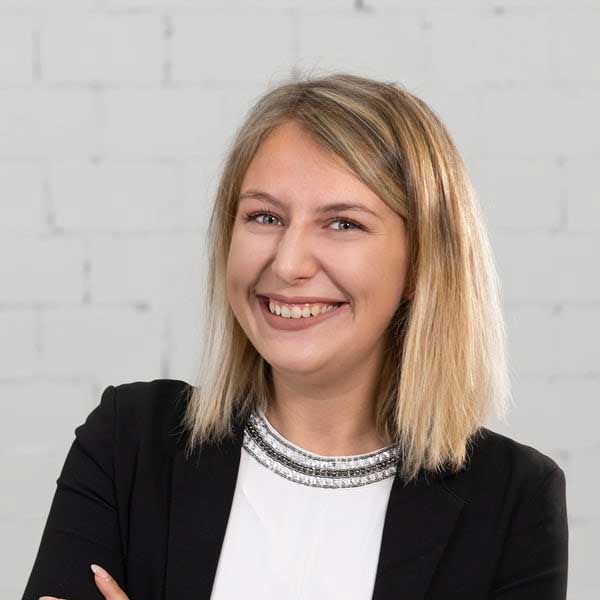 Gloria Farris
As Ander Group's Digital Content Specialist, Gloria communicates throughout the creation of transversal contents for the various channels. With a Master's Degree in Strategic Communication, her distinctive characteristic is empathy, which she uses to reach her main objective: communicating the company identity by structuring specific content strategies, based on the comprehension of the target's expectations and needs.