Image and idea, work and play, planning and execution – in truth, these are artificial opposites. Real productive life combines them all in our permanent quest for meaning, clarity and communication. In this issue, we meet a pair of artists who reject all unnecessary labels and distinctions: Christian Rebecchi and Pablo Togni are NEVERCREW, whose mission is to make us see our world anew. It's a big ambition, but one that they achieve through simple means: cooperation, connection with the audience, careful preparation, and never losing sight of the goal. That's also how we at Ander Group help our clients make their mark on the world.
The two men move around the room like cats, silently and efficiently, seeming to communicate by thought alone. Outside, the sun streams down on the mountains and forest. Within, the studio is like an ancient tomb, its walls covered with mysterious images mingling mechanical systems with natural, biological forms. The feeling is calm, yet purposeful, with the growing excitement of creation.
Racks and drawers of paints in every color imaginable line the room – and in the middle, a puzzling, fascinating object: a sarcophagus? A spaceship? A new life-form? Nothing here is simply what it seems. Welcome to the exhilarating, baffling, eye-opening world of NEVERCREW.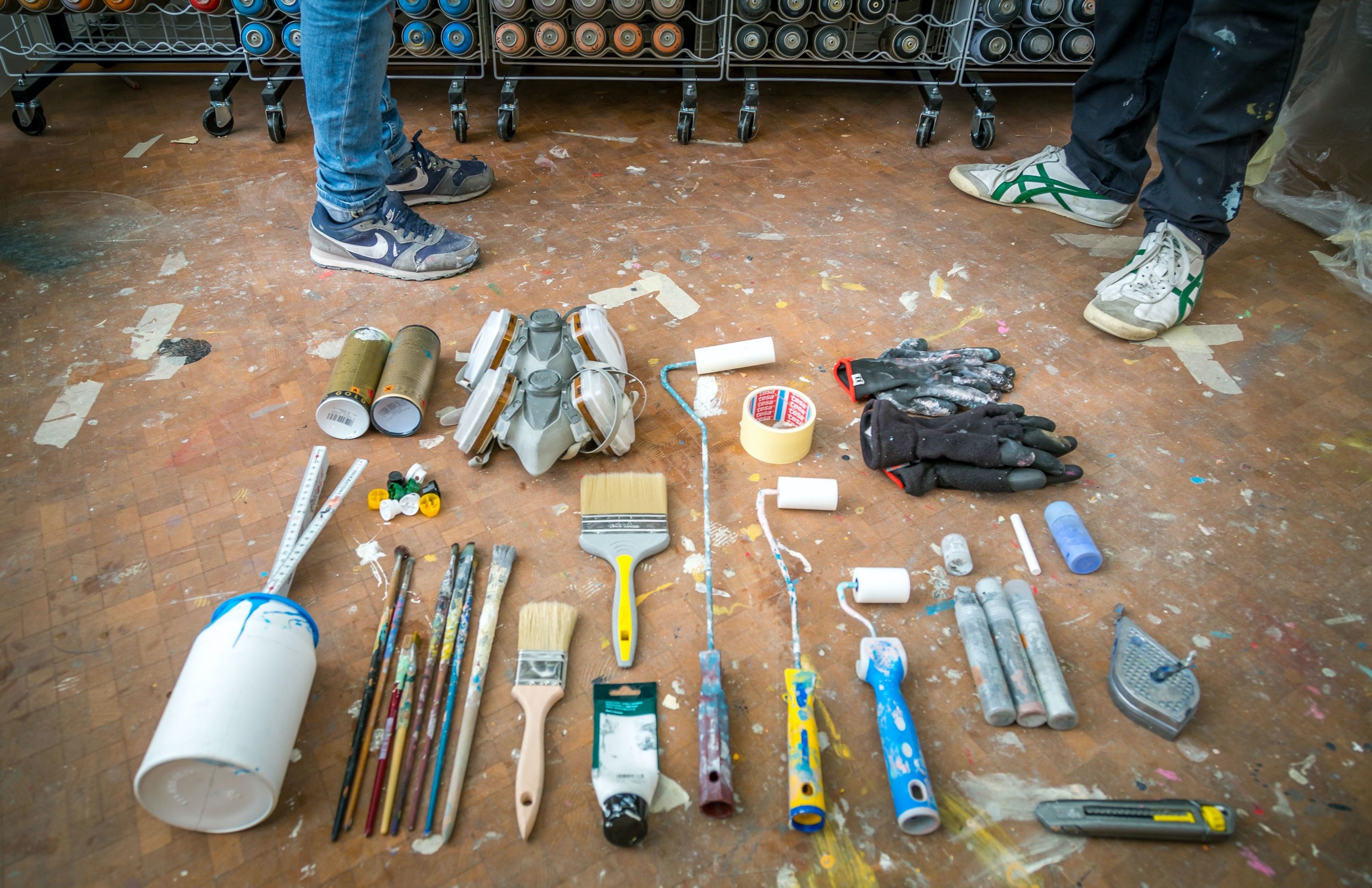 NEVERCREW is two remarkable artists working together as one. Pablo Togni and Christian Rebecchi are now in their thirties, and have been a team since they were in art school in Lugano as teenagers. "We don't divide tasks," explains Christian; "because we are so used to finding a way to combine what we think." Pablo picks up the thread: "We both say that each of us could do everything, so we can take a project together from beginning to end, or we can work on parts separately."
Having completed their academic training at the Accademia di Belle Arte di Brera in Milan, they set out in 2005 to define their shared personal artistic vision. "We had common passions and hobbies when we were 15 or 16," explains Christian. "In the 1990s, hip-hop culture was very prevalent and we were deeply interested, doing graphics and drawing for record covers and mix-tapes. We were naturally drawn to the graffiti scene, because we saw mural art as a direct way to express ourselves."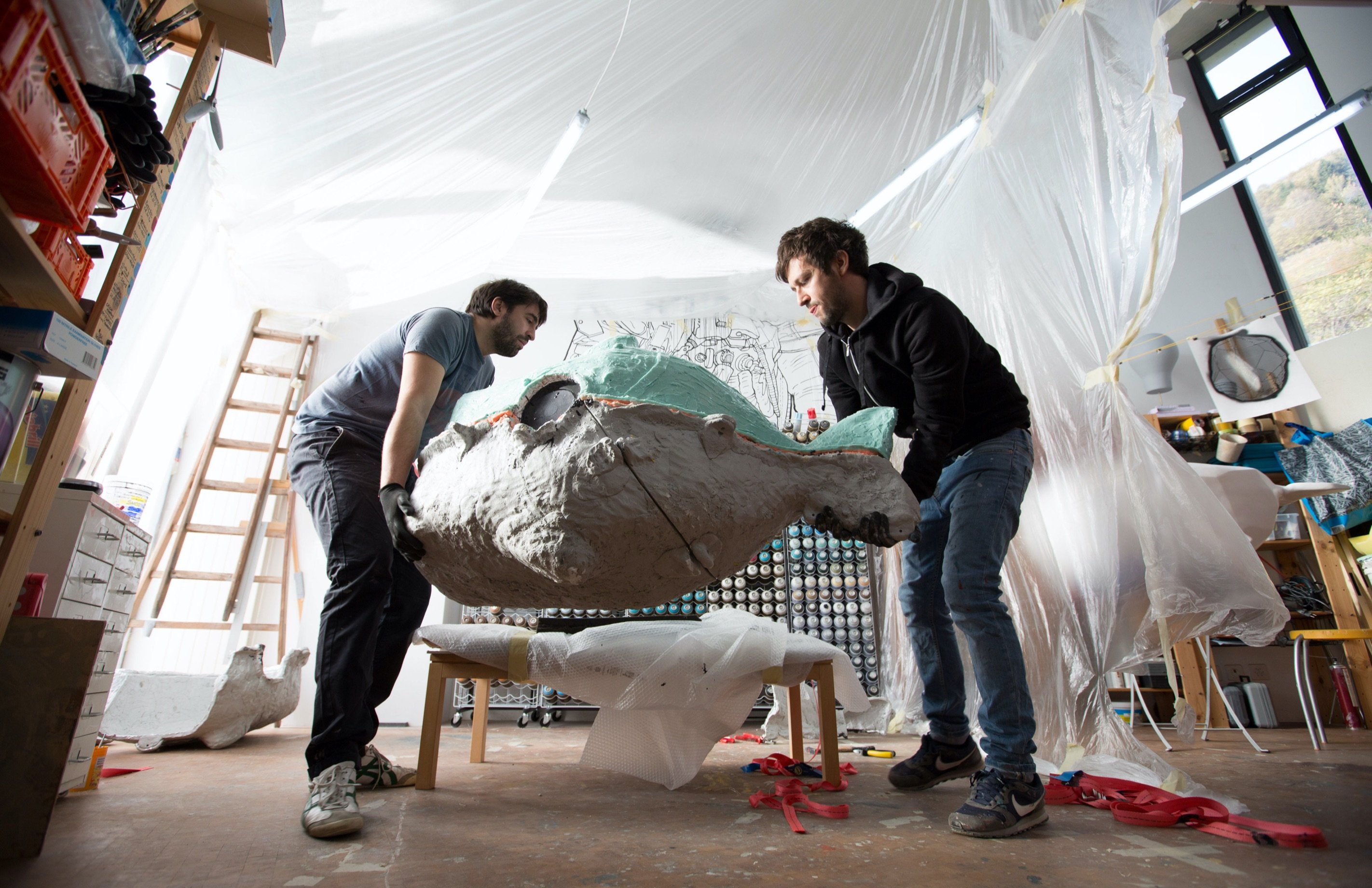 Graffiti art has the image of an subversive "outsider" culture – but you could also say that wall painting is the oldest of art forms, going back to the caves. It also has a long tradition in European high art, especially in Italian painting: Mantegna, Leonardo, Michelangelo… but NEVERCREW has little time for such labels: "We don't like restrictive descriptions," says Pablo; "they might be useful for explaining the past, but not the present. Hip-hop graffiti writing has its rules, but there are so many styles and attitudes, and they have changed radically over the years. 'Street Art' seems a simple idea, but it actually contains every possible artistic view and technique, so we're not interested in being seen as part of a movement. For us, we see our work as strictly related to the time and place for which it's created – its social context, politics, emotions – and the connection that people make with it."
Christian agrees: "For years, we have had one shared common path: to connect and communicate using our personal language, in the most natural way. We have always cared deeply about what we do, and we try to make no difference between our work and our lives."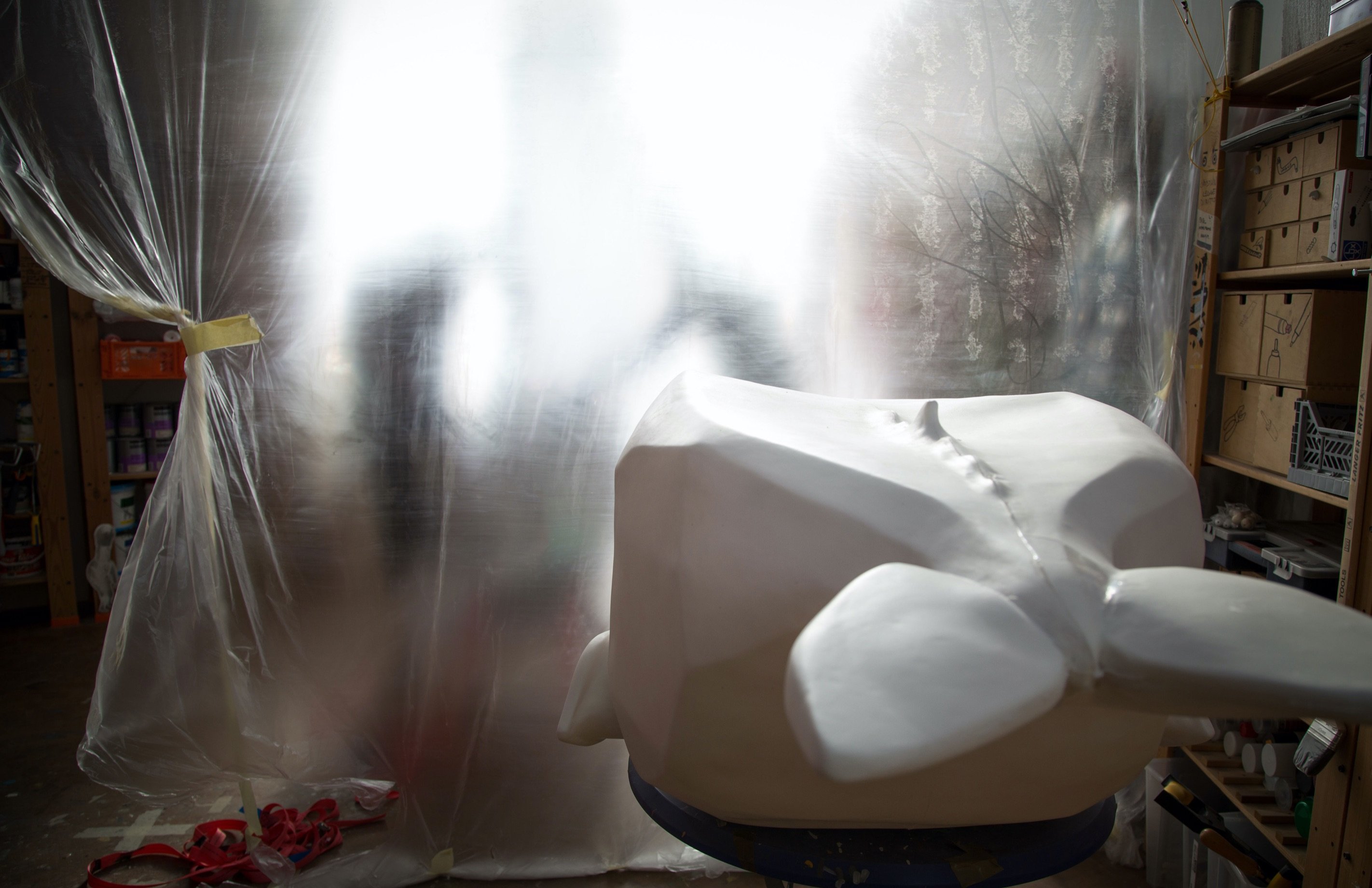 The images that stream out of NEVERCREW's spray-cans are hugely varied, from disk-drives and washing machines to moonscapes, clouds, octopi and polar bears – but there is always a clear idea behind them. Part of this is the context: "We think of the particular aspects of each location; its shape, its use, the surrounding culture. The is the space in which we can communicate." More important, though, is the communication itself, which often explores the relation between the human world, with its systems and machines, and the natural world that surrounds us. "It's all about relationships," says Christian, "between people, between humanity and nature, between humans and their nature; we like to create 'systems' that highlight these connections between the parts."
"It's a little like those nested Russian matrioshka dolls," continues Pablo: "To analyse a system we create a new system inside it, that expands its borders, connections and meaning." The mechanical elements are a direct way to refer to human activities, while the natural elements open out the discussion, sparking an empathy in the viewer that a machine cannot. "The result, we hope, is visual and political, entertaining and subversive all at the same time."
NEVERCREW's urge to connect with the audience sometimes extends to inviting participation in the work: the Volvo Art Session in Zürich, asked viewers to drive radio-controlled cars with paint-covered wheels around a giant city map. Tin Can Phone Project, in Lugano, provided chalks from a vending machine for viewers to add to and modify each other's contributions to the mural. "Interaction is something we really care about," says Christian. "People's reaction to our mural work may be deep, empathetic, reflective… but it's private. In an interactive project, it's visible, shared, explicit, connecting and influencing as it grows. So we certainly plan to do more of these installations."
Projects
All of this time, the mysterious object has been sitting there in the middle of the studio, as if waiting to be born. Now the time has come: lifting off the mould with extreme care and gentleness, Christian and Pablo reveal the sculpted form of one of their best-loved motifs – a sperm whale, reimagined in a boxy, tadpole shape. It lies there, dignified and self-possessed… a new work at the moment of arrival.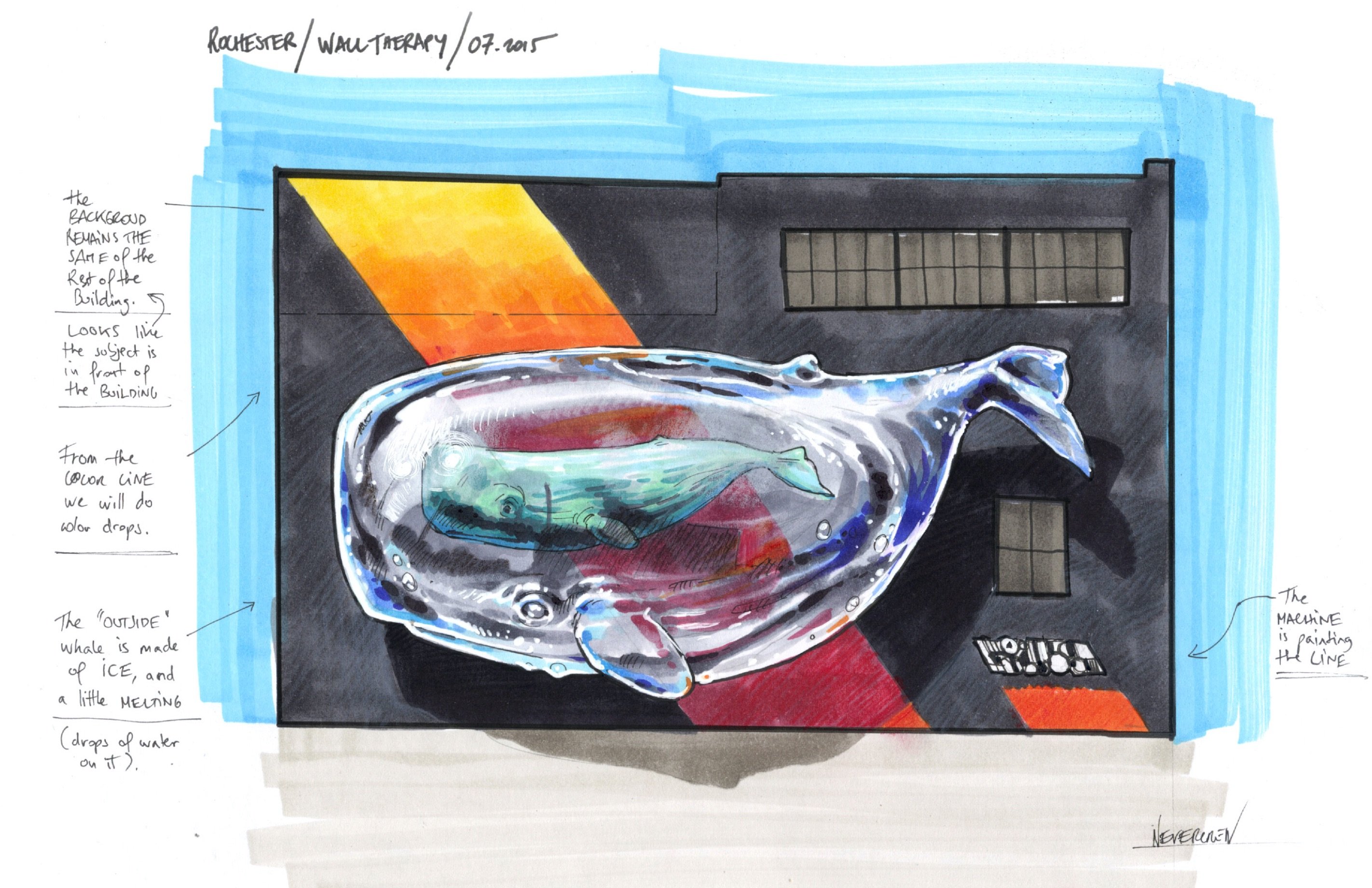 "We have been planning to do this for years," says Christian. "We always tried to include three-dimensional elements in our work, because it is such a good way of increasing the involvement of the viewer: it draws you into the image. But now we are working more on sculpture itself. When will the public be able to see the finished work? Certainly in 2017 – but we can't say where."
That is in part because NEVERCREW exhibits all over the world, from Cairo to Canada, from New Delhi to… Winterthur. "Every new work is challenging, and every new place teaches us something unexpected," say Pablo. "We are becoming part of a neighborhood for a while, meeting new people and connecting, letting everything go deeply into our feelings. It's a very intense experience, but also rewarding. Certainly, we wanted to stay on in New Delhi –it was amazing."
And the painting itself ­ laying on these glimmering sheets of color, bring a dead wall to life with each sweep of the hand – is it pleasurable? Are the men up there in air enjoying the moment? "It's all both pleasurable and exhausting: the conception, the planning, the execution. Sometimes were happy to be thinking, sometimes we're happy in front of the wall, sometimes we're happy to be finished. We do what we do because we like it."
So the crew moves on, always looking for a new wall, a new empty space to fill with connection and communication. "Our dreams and ambitions are already realized. What we want most is already happening. We are on the path, all that's necessary is to continue in the right direction, finding ever more stimulating and interesting opportunities to interact."
Discover all the projects on: nevercrew.com
---
Wanderful Take
Make your mark! The spectacular images of NEVERCREW reveal what amazing things can happen when brain, eye, and hand work together. More than that, they confirm that two are better than one: together, we make a multitude. Good art draws attention; it connects people with the spaces they inhabit and the beings that surround them. In choosing their shared path and following it with care and attention – but also with a light heart and pure intentions – Christian Rebecchi and Pablo Togni are fulfilling each day their dreams of the night before. What a Wanderful life that is!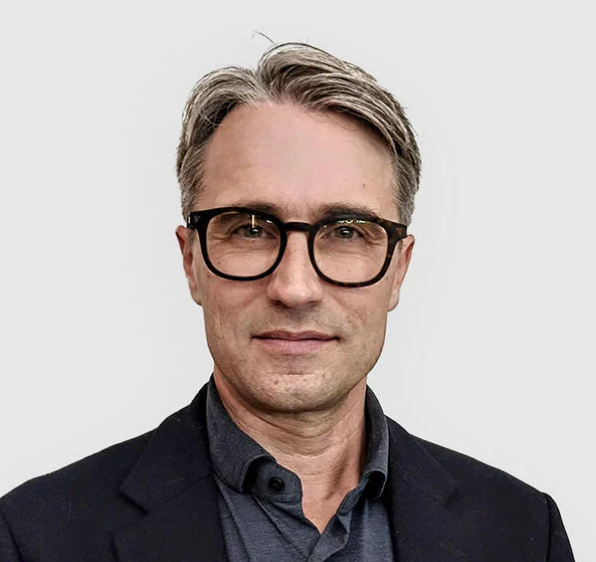 Florian Anderhub
Dopo aver conseguito un Master in comunicazione all'Università della Svizzera Italiana, dal 2006 Florian Anderhub guida Ander Group. L'estrazione multiculturale, i 21 anni da imprenditore e la passione per l'innovazione tecnologica sono una garanzia di crescita per i suoi clienti.