Having an entrepreneurial mindset is the key to being able to start and run a business in the best possible way. Nevertheless, hunger to grow as a business and determination often lead to making those common mistakes of entrepreneurs that even risk damaging the brand.
Ambition is essential both in the start-up phase and for business growth, but it is not enough. You need to be aware of what it means to "do business" and to know all the basic business development activities: administration, management, marketing, human resources, business, legal, you name it. Awareness of what your business needs to function will ensure not only that you always have the reins in your hands, but also that tangible results will come given by the optimal organization of all core activities.


5 common entrepreneur mistakes that can hurt your business:
Continuing with your mindset without adapting it to the needs of your audience is very risky: those companies that now find themselves part of the "Museum of Failure", the chain of museums that collects more than 159 entrepreneurial failures, even of brands or product categories that were once popular worldwide, know this well. And if even such giants as Blockbuster, Google with its Google Glasses and Coca Cola's coffee-flavoured coke have had a hard time establishing themselves in a market characterized by a more demanding audience than ever before, it is clear that today's small business owners must be very careful to avoid collapse! Here are the mistakes you must avoid if you are an entrepreneur:
#1 Disregard the data
We know that when you decide to start a business, you think your idea is a successful one. However, if the market is not ready, there is no demand, or instead the boom phase is over because the world is changing, you need to be realistic and understand, with data, that it is time to reevaluate your business. Relaunching it, changing the market, changing your vision and/or modus operandi are good techniques to bring your business back to the glory you expected.
Don't focus on a single strategy: listen to your audience and embrace change when it may prove best for the success of your business.
"Only fools and dead men never change their opinions." - James Russell Lowell
#2 Not having identity consistency
It's ok to change and adapt, but not to distort! Staying consistent with one's identity is absolutely essential, especially for a business that has been established for a while and has built its trusted customer base.
Consumers, especially loyal ones, have a sharp image of who you are and what they expect from you. Revolutionizing your brand system by changing the image you have always conveyed of your brand risks making your audience feel "betrayed", leading to a negative word of mouth that not only causes you to lose your niche of customers, but also risks not getting new ones.
#3 Not considering what competitors do
To become a leader in your industry, and even just to get noticed, you cannot neglect benchmarks. A thorough analysis of how your competition is doing will not necessarily get you the perfect strategy, but it is essential to have a good understanding of the market in which you operate. It will also undoubtedly help you understand what you should not miss to stand out, what you should avoid because it doesn't work, and what they don't do that you can do to differentiate yourself.
#4 Thinking you are always right
Entrepreneurs are convinced of many things, especially that they are always right. If you hire staff or an agency in a particular area, it probably means you lack the time or skills to be able to manage those assets yourself. So, allow them to do the work you sought them out to do! You will be amazed by the results that come when you trust your team.
#5 Believing you can do everything yourself
It doesn't matter how knowledgeable you are about your business, your product, and your market. You are an entrepreneur: this means you must have a basic knowledge of all the activities you need, but you can't be good and experienced enough at all of them. Knowing how to turn to professionals is an underrated but indispensable soft skill: delegating and sharing your core activities with experts will make your work more efficient, and every area of the business will be more effective and the workflow more streamlined. Also, think of the benefit of being able to be serene because you are surrounded by trusted people, without having to work around the clock!
The right balance between managing activities independently, engaging an experienced team in-house, and choosing to outsource certain areas is what will ensure your continued business growth and efficient operations.
The Ander Group Team is available to support you in your growth journey, taking care of all aspects related to the digital development of your business: from branding, online advertising, social media management, SEO content creation, website and logo design, and opening your e-commerce. Everything, in one place: HubSpot.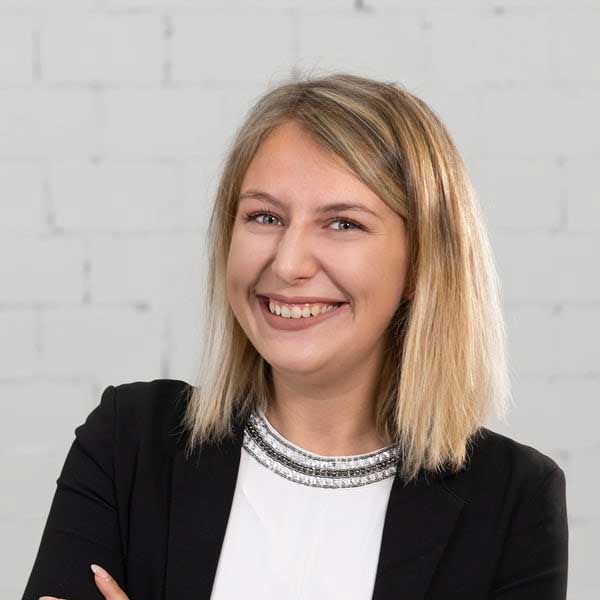 Gloria Farris
As Ander Group's Digital Content Specialist, Gloria communicates throughout the creation of transversal contents for the various channels. With a Master's Degree in Strategic Communication, her distinctive characteristic is empathy, which she uses to reach her main objective: communicating the company identity by structuring specific content strategies, based on the comprehension of the target's expectations and needs.