Choosing the right socials on which to implement your social strategy is key to your success. Using the wrong platform means failing to intercept your target audience, and consequently shooting your arrow "into the void." In this article we reveal the general rules of thumb for figuring out which social media to choose based on your target audience.


The use of social networks is now a habit for everyone: it almost comes naturally to "scroll" the homepage of one's favorite social networks. In this context, companies fit in perfectly with their content, to get their results even at times when traditionally "business does not work". In order to succeed in positioning oneself positively in the mind of the average user on socials, however, it is necessary to adopt a functional communication strategy, which plays on simplicity and clarity, and above all on the consistency of content with what users expect to find on their homepage (the logic of "relevance", showing the user only content that he or she considers valuable), so as not to be "intrusive", too much, annoying. But the question is: on which socials to insert yourself with your strategy?

Choosing the right social media: how to get results with your social media strategy
The key is to know your target audience and communicate by following their needs and expectations, then using the social platform they prefer and following its logic.
The right answer to the question "which social should I choose?" is: it depends.
Today there is a wide range of social platforms you can use.
Does that mean you have to use all of them to be successful? No: use the ones that can perform best for your business. There are several aspects to consider:
What is your target audience?
What is your business model like (B2B or B2C)?
What sales methods do you have available? Do you have an e-commerce or do you want people to come to your physical store?
What social media are your competitors on? (Conduct a benchmark!)
Each social media meets different needs; the right platform for you is definitely the one on which your audience is most focused and active. But how do you divide your audience across socials?


"General rules" for figuring out which socials to choose:
# Instagram


Although Facebook maintains the record in terms of number of subscribers, Instagram today is undoubtedly one of the most used social networks by young audiences, suffice it to say that in 2016 it recorded a 58% higher engagement rate than Facebook. The platform's potential is manifested in two aspects in particular:


Visual content: if you sell products that are visually appealing and lend themselves to being photographed, you can bingo with Instagram. The more catchy your product images are, the more likely users are to visit your page or site.
Emotional marketing:Instagram also lends itself to reaching your target audience through emotional content, which deals with issues of interest to your audience and which can prompt them to be intrigued by your reality or your way of communicating it. In this way, you can increase both your brand awareness and a positive sentiment toward your products or services.
# Facebook (Meta)
Facebook was the first social network par excellence and once grouped users of all ages. Today its use has changed and it is mostly used by more mature people, on average above 35 years old. The great advantage of this platform is that almost every type of content performs well: text, images, videos, stories. Users who click on Facebook ads then tend to buy the advertised product.
# TikTok
If your target audience consists mostly of very young people (such as teenagers), TikTok is the social for you. It is a platform for sharing short videos, whose visibility has grown tremendously in recent years.
# LinkedIn
LinkedIn is a social media of its own: it is the community of professionals, characterized by a generally adult target audience, interested in informative content related to the business and professional world. For this very reason, it is suitable for B2B communication.
# YouTube
YouTube is "the social that brings everyone together": it groups a very wide range of users and is based on video content, the fastest growing and most popular content marketing medium of the moment. It lends itself perfectly for how-to videos in which to explain the potential and functioning of your products, or to implement an Influencer Marketing strategy, collaborating with prominent personalities and asking them to do product placement within their videos.
# Pinterest
60% of Pinterest users are female. As in the case of Instagram, it is an especially effective social if your products are visually pleasing. Precisely because of this, the sectors that focus most on this platform are fashion, food, decor, wedding, and fitness.
# Twitter
As much as the use of social media continues to grow, this does not apply to Twitter, whose number of users has declined in recent years. Regardless, Twitter can offer benefits to your business if you are in entertainment, real time news, sports, politics, technology, marketing, etc. With short, straight-to-the-point content, Twitter is intended for sharing timely updates on breaking news. On this social, you can highlight your brand as an expert and authoritative voice, a support for those who are always looking for reliable information.
Of course, this list does not include all the social media available today. Other platforms such as Whatsapp, Telegram, Snapchat, Vimeo may represent a window of opportunity for brands based on needs and average target audience. To help you in selecting a platform for your social media strategy, check out this report of the most used platforms by demographics by the Pew Research Center:
It is almost superfluous at this point to say that it is not enough to post occasionally or to put up funny stories to get good results with socials. It is essential to keep in mind that each platform requires an effective, purposefully structured social media strategy, pursued consistently, following an editorial plan and keeping track of metrics to optimize it from time to time.
To do this, the support of a Team of professionals such as Ander Group's can make all the difference: know-how, expertise and continuous updating on platform changes can take your company's social media account from being just a page, to being a source of revenue (new leads, actual customers, sales and word of mouth) for your business.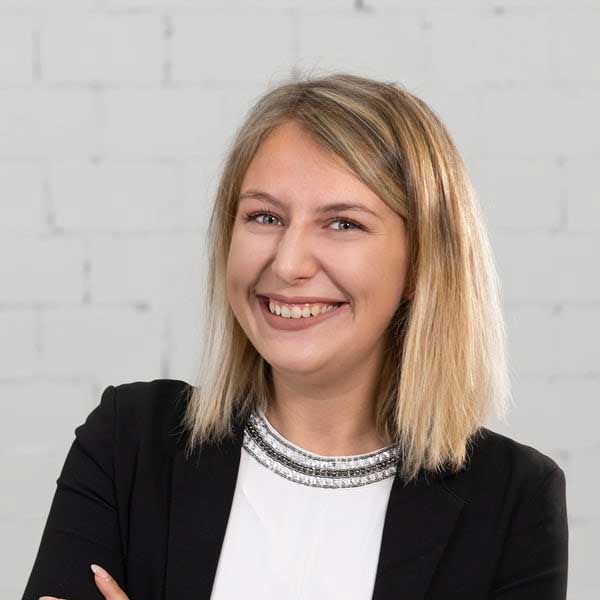 Gloria Farris
As Ander Group's Digital Content Specialist, Gloria communicates throughout the creation of transversal contents for the various channels. With a Master's Degree in Strategic Communication, her distinctive characteristic is empathy, which she uses to reach her main objective: communicating the company identity by structuring specific content strategies, based on the comprehension of the target's expectations and needs.