In 2021, purchases influenced by Social Media Advertising in the younger generation were 75%, as far as Generation Z is concerned, and 48% for Millennials. Numbers, these, that highlight how investing in a good social strategy can make a difference for a company today.



Ten years ago or so, brands that wanted to take advantage of advertising to reach their target audience only had "traditional" means at their disposal: television, billboards, street advertising, and radio. Since digital has taken over, however, the effectiveness of these tools has diminished, and it has become increasingly important for companies to adopt a digital marketing strategy, of which Social Media Advertising is an integral part.
Social Media Advertising can be defined as a form of paid digital advertising that shows content to a specific target audience on different social networks (Facebook, Instagram, Twitter, LinkedIn, Pinterest, YouTube). It is now a powerful medium available to brands to communicate with their prospects and customers.
For a company, not having a presence on social media means missing an important opportunity: an effective social strategy can improve brand awareness and website or e-commerce traffic, generate new leads and increase sales, with the great advantage of requiring generally lower costs than "traditional" marketing.
In allocating your marketing budget, if you haven't done it yet, you should therefore start thinking about allocating a good portion to SMM. Still not convinced?


4 good reasons to invest in Social Media Advertising:
#1 Boom of active users
A huge percentage of the world's population is now on social networks and uses them actively, with numbers continuing to grow. One example is Instagram, which has more than one billion active users worldwide, 19 million in Italy alone. Whatever your target audience, there is a reference social on which your potential customers are active, and which conditions their opinions and consumption choices with its content.
#2 Highly detailed targeting
Unlike offline advertising tools, which use a "large-scale" approach, creating content aimed at the widest possible audience, Social Media Advertising focuses on highly profiled content, allowing brands to connect with their "ideal customer" (buyer personas), identified by geography, demographics, psychographics and behavioral traits. In this way, ads will be viewed only by an audience that is potentially interested and for whom, if well structured, your content will represent added value. In addition, precisely because of detailed targeting, you have the ability to accompany your potential customer at each stage of the marketing funnel: when you need to make yourself known, when the user is looking for information, when you are starting to earn their trust, and when they are ready to buy... each stage corresponds to specific content, which through targeting you can show the user at the right time.
#3 ROI monitoring
A substantial difference between Social Media Advertising and offline ads lies in the tracking of your investment. Social advertising platforms allow you to specifically track the performance of your investment from your campaigns: you will be able to see the performance of your budget using metrics such as PPC (pay-per-click or cost-per-click), i.e. the cost of each click on your ad, the number of visits to your landing page, the number of leads obtained, etc.
This kind of information is indispensable for marketers, because it allows them to always keep track of how well your activities are performing, always optimizing them for the best possible results. Social Media Advertising therefore allows for a quick, predictable and measurable return on investment.
#4 Data speaks for itself
The data highlight how indispensable Social Media Advertising - combined with a good organic presence - is to business growth today:
The average Facebook user clicks on at least 12 Facebook ads per month, and 26% of users who click buy the advertised product;
81% of people use Instagram to search for products and services;
4 out of 5 people on Linkedin are business decision makers;
Most companies today have a social strategy, so your competitors probably do too (more than 7 million companies do Facebook Ads);
Budgets allocated for Social Media Advertising are set to increase, probably doubling by the end of 2023.
So, should you invest in Social Media Advertising?
No, if you plan to leave the success of your campaigns to chance or a good budget.
Yes, if you intend to do it the right way: method is the key. It is most important to create a communication strategy and also manage organic content on your social media on an ongoing basis, targeting it as specifically as possible and after defining your goals.


Practical tips for investing in Social Media Advertising the right way
"What does it take to post on social media?"; "Being a social media manager is not a job!"; you hear all kinds of things about the world of social media marketing today. In reality, being present on social media is one thing; getting results with them is another. Here are the
best

practices

for your social strategy:

#1 Set your goals
What do you want to achieve with Social Media Advertising? Establishing clear and achievable goals is the key to a successful campaign.
Each social media is different, this is why it is so important to be clear about your business goals. In this way, you have all the tools to be able to choose the social media that best suits your strategy. Once you have chosen the tool, it is also essential to decide what kind of action you want users to take with your campaign: do you want them to interact? That they go to your website? That they leave their contact information in a form? That they sign up for your newsletter? Each goal has a different cost, and depending on how you sept the platform, Ads will bring different results for your business.

#2 Define time and cost
A social strategy, while well-constructed, does not bring results overnight (although, of course, a good adv budget greatly facilitates the process!) and involves costs to which a budget must be allocated. However, let's break a lance in favor of this investment: compared to traditional advertising, the figures are generally very small.

#3 Know your target
A key feature of social networks is their specificity: for example, you cannot expect to communicate with a very young target audience by focusing on LinkedIn. If you are clear about who you want to target and what their preferences are, it will be easier both to choose on which social to focus your strategy and resources and to create valuable content, which will automatically find more success.

#4 Track your results
When you publish your content, monitor the interactions and results you get. This applies to both organic content and campaigns: what content generates the most interest? Which topics get the most clicks? This is some data you should rely on to re-set your strategy and optimize it as best you can.
This phase is as important as knowing your goals: by monitoring the performance of your campaigns, you will also know if the budget you have allocated to Social Media Advertising is bringing results or if there is something you need to improve in your strategy.

#5 Teamwork
To bring the desired results, social must act as a support to the basic skeleton of the business, consisting of the website, sales force, customer support, and the entire team. Social is the tool through which you give visibility and accelerate the operation of everything else, but everything else must be well-functioning and performing on its own (e.g. fast loading of pages, helpful and knowledgeable customer support, well-stocked warehouse, high-quality products).

#6 In-house or outsourcing?
Key moment in creating your strategy: do you have internally the right team and tools to be able to carry it out effectively? The skills needed? The necessary time to follow the editorial plan once it is created? Even the best strategy doesn't work if it is not carried out consistently through all its phases (implementation, testing, analysis, and so on).

This is precisely why an agency with an experienced Team like Ander Group can help you plan the strategy and manage it in its entirety so that it is effective and brings concrete results to your business. It is not enough to have an account on social media to positively affect your business: setting up a specific method and ad hoc KPIs so you can analyze the results can get your business off the ground.

Do you want to relaunch your business?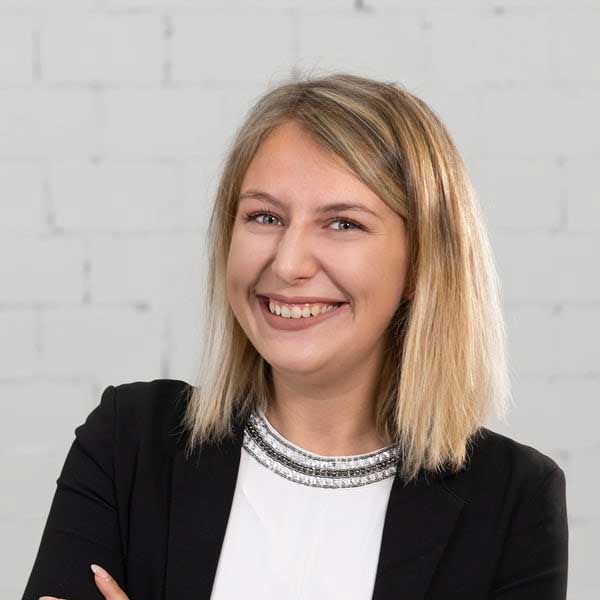 Gloria Farris
As Ander Group's Digital Content Specialist, Gloria communicates throughout the creation of transversal contents for the various channels. With a Master's Degree in Strategic Communication, her distinctive characteristic is empathy, which she uses to reach her main objective: communicating the company identity by structuring specific content strategies, based on the comprehension of the target's expectations and needs.