A new digital ecosystem to score goals in fan loyalty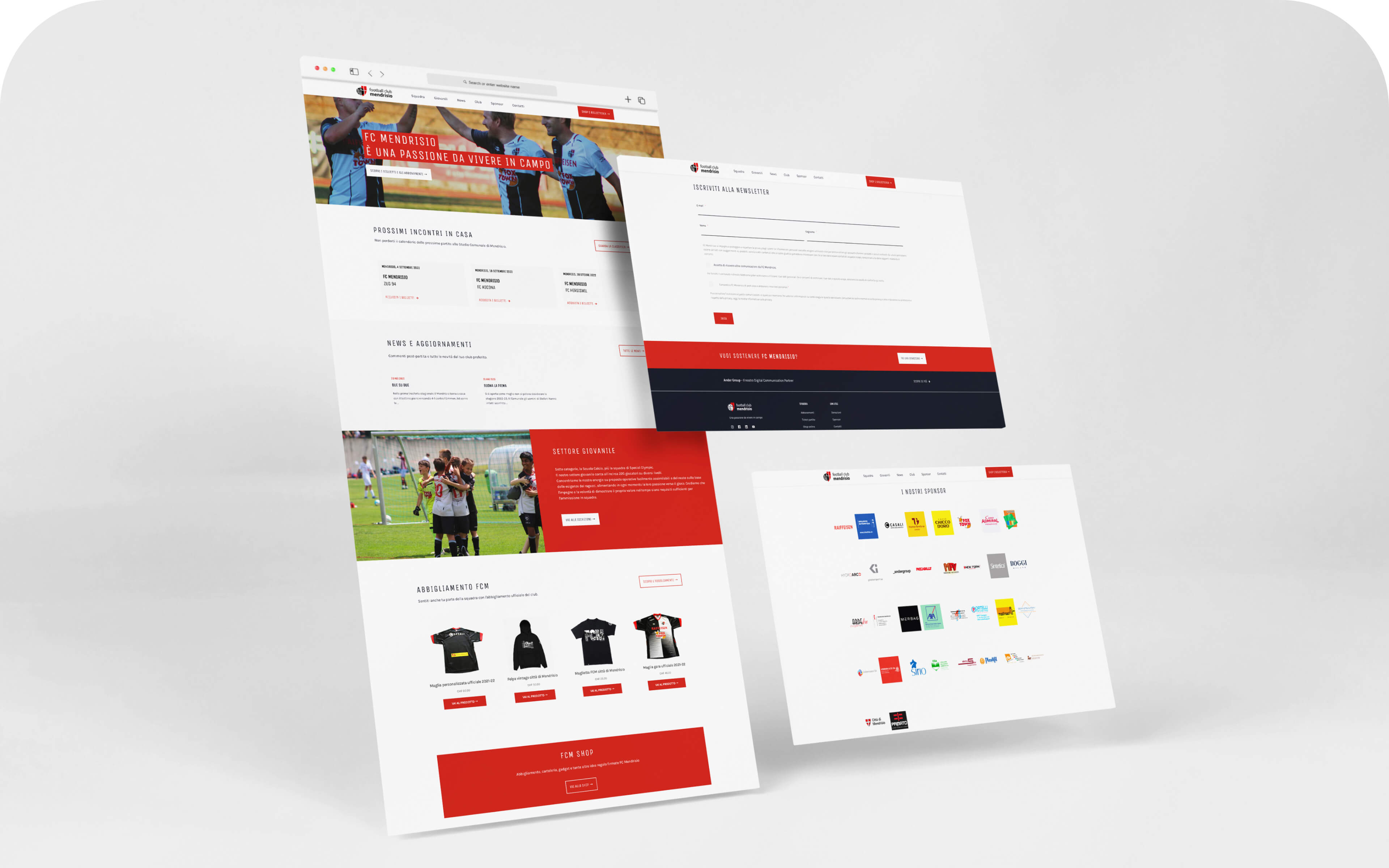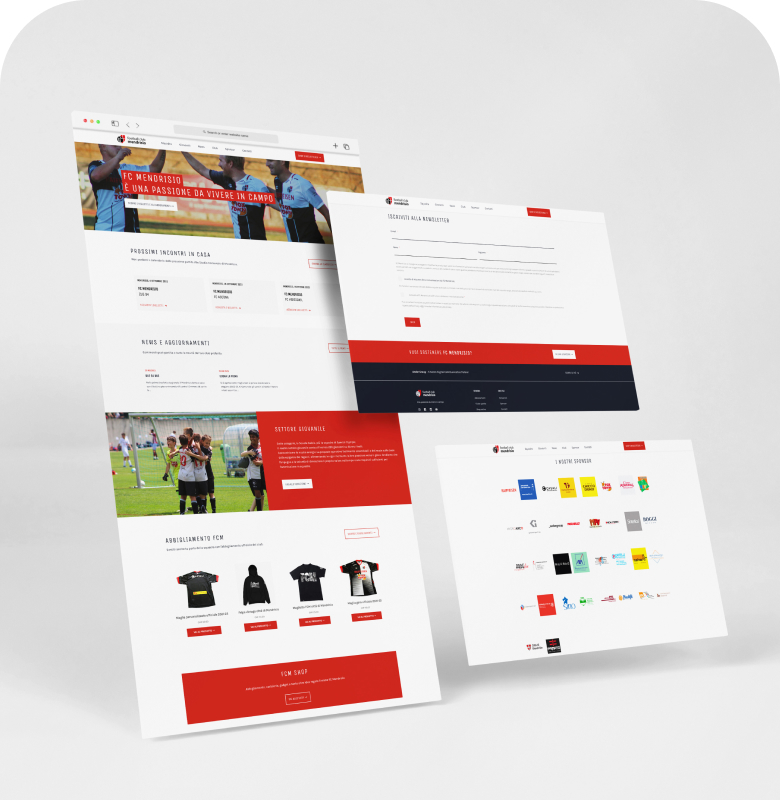 Focus
New digital communication channels

Merchandising promotion

Digitalization of contact management
Activities
Developing a new e-commerce
with Shopify
Website makeover
CRM integration
Results
Autonomy in website and e-commerce management
Increased sales
Increased efficiency in contact management processes
Objectives
Building fan loyalty with an engaging and intuitive e-commerce and new communication channels
FC Mendrisio is more than a team: with a squad exclusively composed of volunteers, it aims at being a hub of social cohesion in the area, uniting citizens around the same ideals.

FC Mendrisio aimed to have tools that would help them build loyalty with their fans and that they could manage independently. From this need, we developed an e-commerce for them and redesigned the website so that it was intuitive and user-friendly. In addition, we developed a newslettering system to promote their products, tickets, and subscriptions. In this way, business management has become more streamlined, with a new sales channel providing additional revenue and new digital tools facilitating timely communication with fans.
Ander Group's strategy for FC Mendrisio
E-commerce design with Shopify
Blogs and newsletters to engage fans
Integration of a CRM to manage contacts, partners and sponsors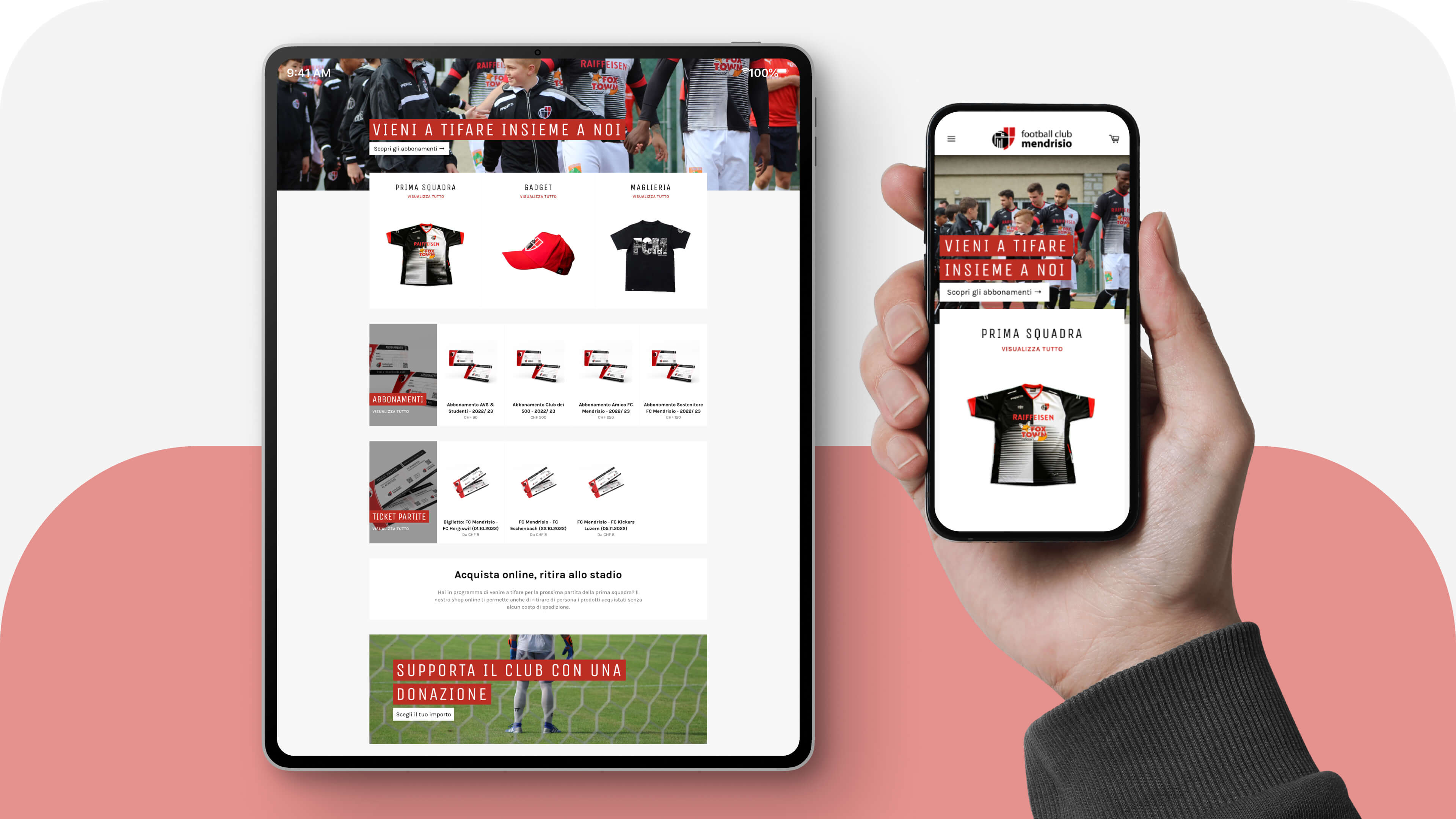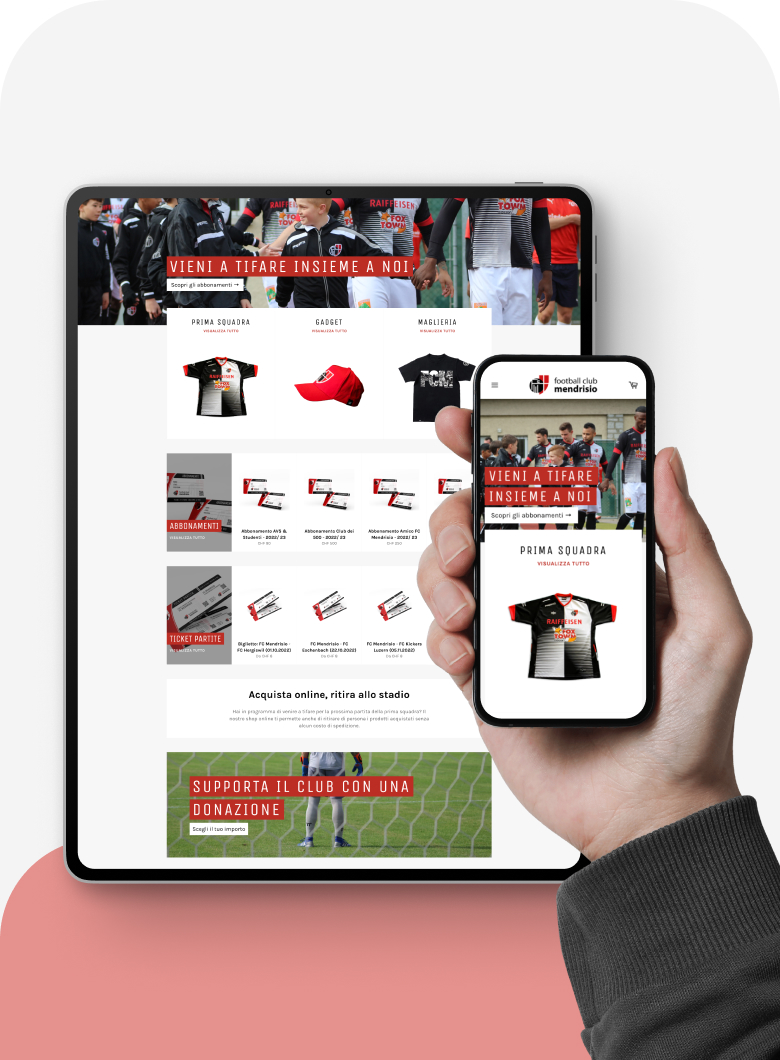 Our job
E-commerce with Shopify
FC Mendrisio's merchandising used to be sold exclusively at the stadium, but today it is no longer enough. To streamline the work of the volunteer team, on the one hand, and to get fans more involved and make them feel part of the team, on the other, they opted to integrate physical sales with digital ones.
Therefore, we created an ad hoc e-commerce for FC Mendrisio with Shopify, which consists of an official club merchandising part, a ticket and subscription sales part, and finally a section dedicated to donations, aimed precisely at supporting the volunteer team.
HubSpot Website
In order for FC Mendrisio's display to be integrally cohesive and uniform, we remodeled the website so that it was more intuitive, graphically beautiful, and consistent with e-commerce. In addition, through the integration of HubSpot and Shopify, we gave visibility to the e-commerce products on the website itself as well.
To facilitate volunteers' job and concentrate all activities in one tool, the website also features forms through which parents can register their children for youth football school.
A constantly updated "news" section
Football is a living world: matches, results, goals... there is no downtime between a news item and the moment it is communicated, fans want to be always up-to-date! Therefore, we have introduced the "news" and "blog" sections within the new site, which the team can easily update independently.
In order to provide them not only with the tool but also with the means to be able to use it in the best possible way, we at Ander Group held a training for FC Mendrisio during which we gave all the useful hints for a smooth use of the platform.
A CRM for agile contact management
With HubSpot CRM, all of the company's contacts are brought together in one database and available to the entire team. The idea was to centralize all the information in one place so that all staff members have easy access.
Having a CRM in place allows FC Mendrisio to have specific and detailed information on each individual contact, thus being able to send targeted and detailed communications, thanks to access to information such as the history of products purchased or subscriptions taken out.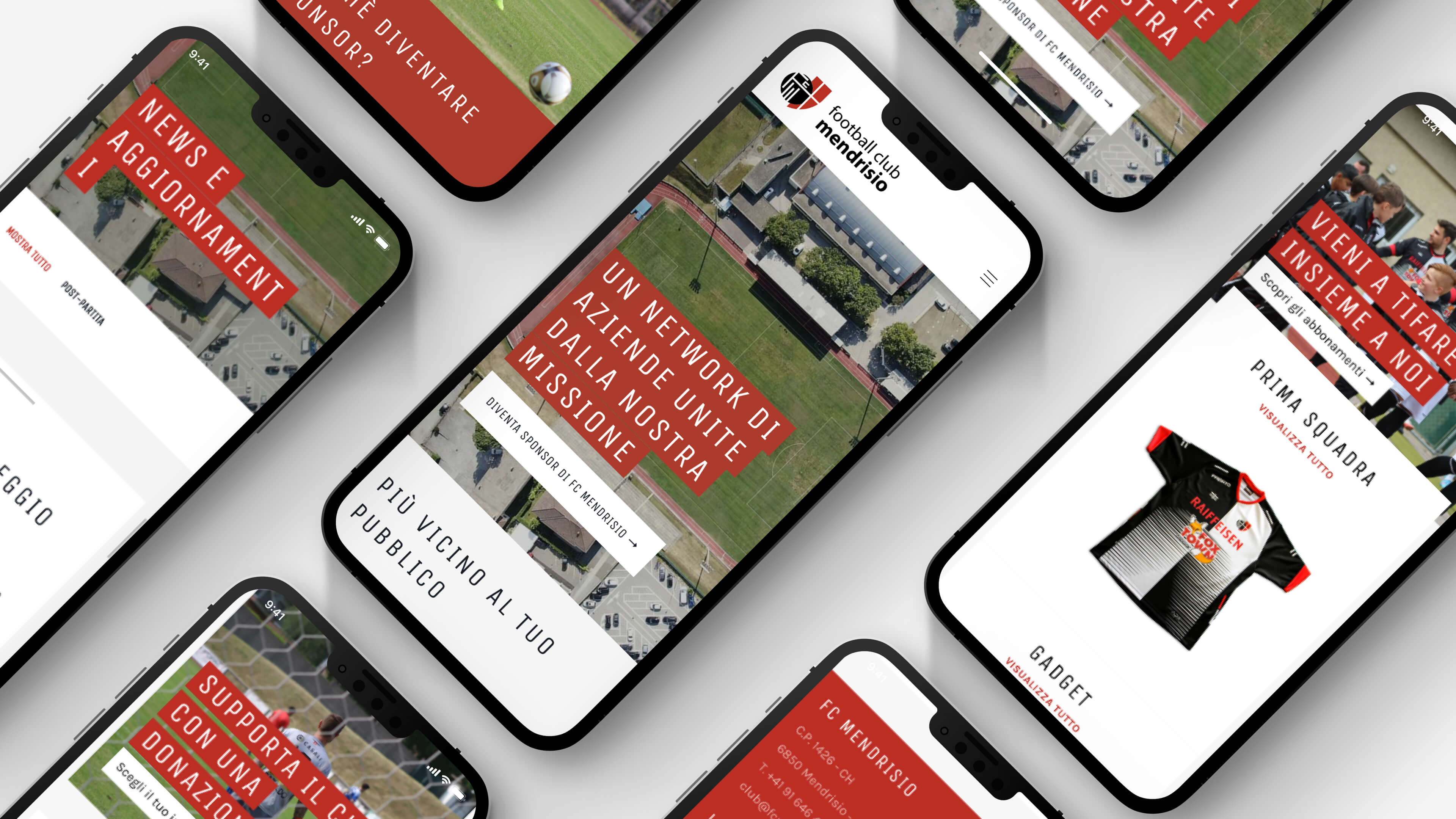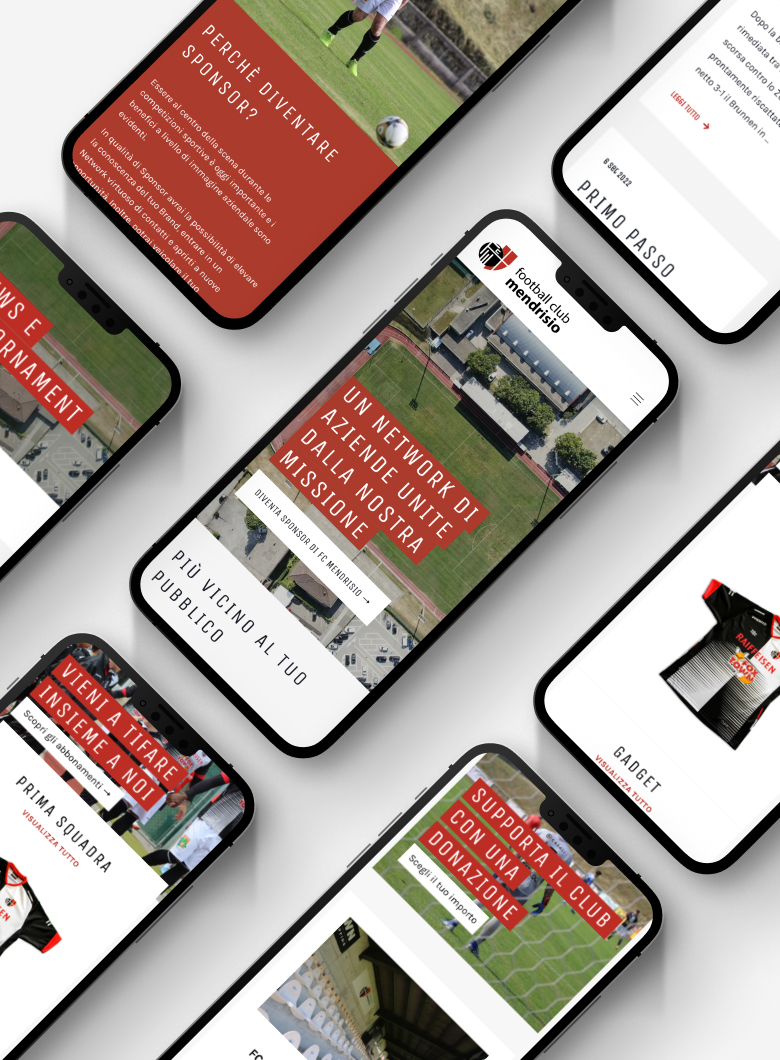 A phygital e-commerce: the union of comfort and participation
Increasing sales is a common goal for most brands. But when it comes to a company like FC Mendrisio, "jumping into digital" at the expense of physical participation is not an option.

For this reason, we at Ander Group proposed a phygital e-commerce strategy that would combine the convenience of having everything at your fingertips through online shopping with the desire to take part in physical events.
The chance to buy merchandise and tickets online and to pick them up directly on site has become an incentive for passionate fans to go to the stadium with more desire and more drive, avoiding the queues that exclusively physical sales entail, and without missing out on the excitement of enjoying the game with hundreds of other people with the same passion.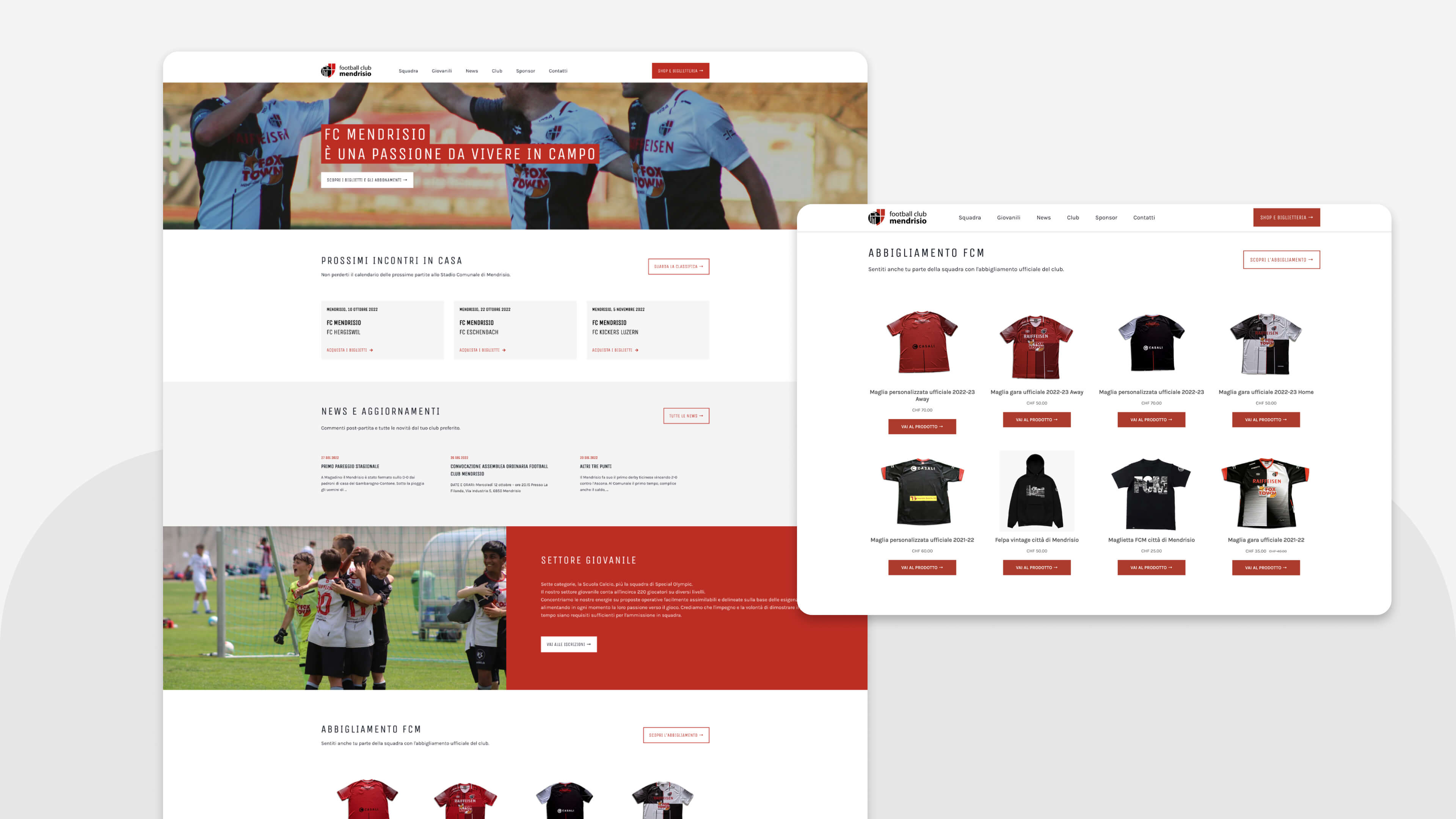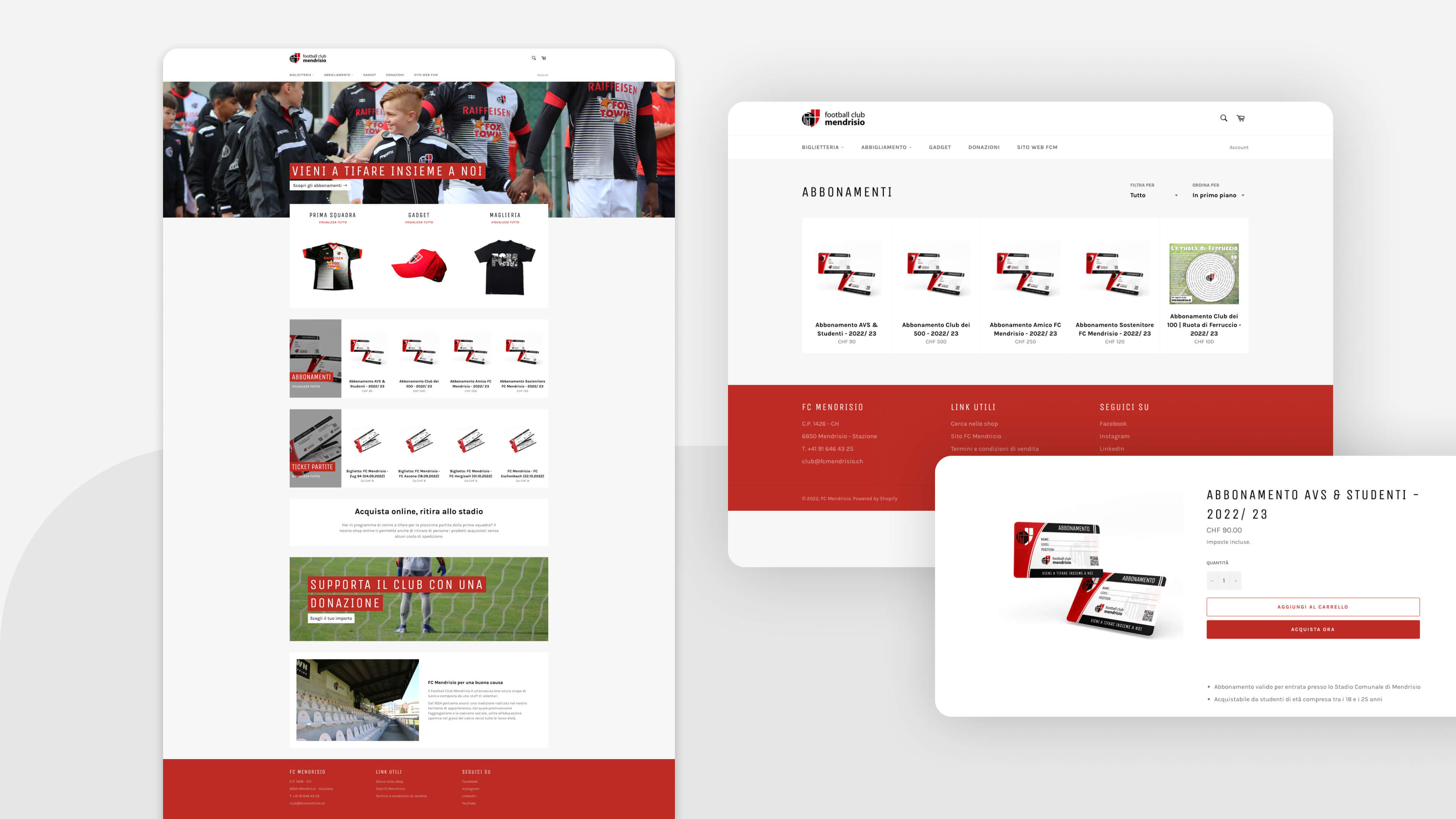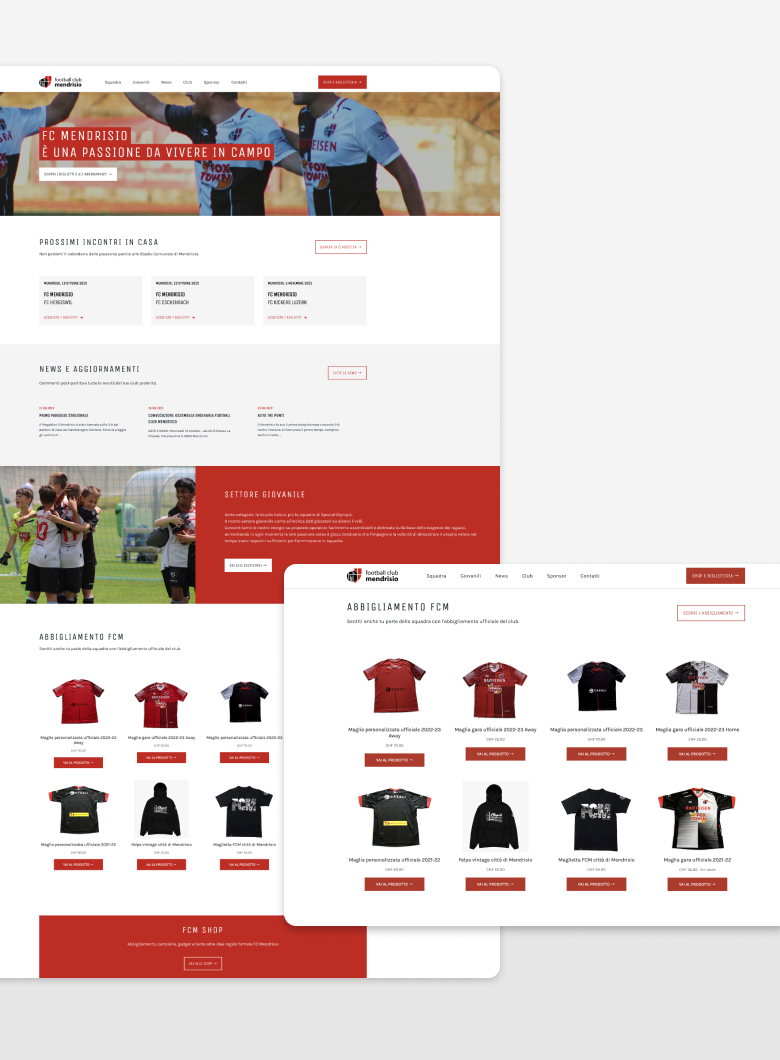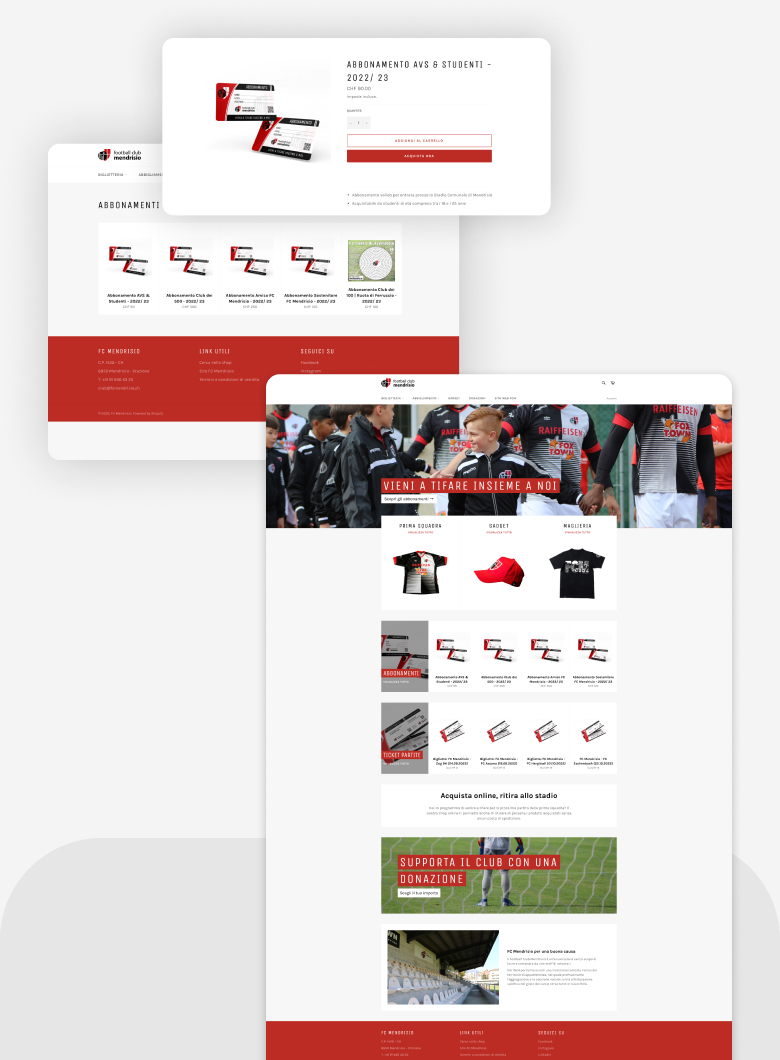 The advent of phygital: what it is and why to include it in your strategy
"Phygital" is the union of "physical" and "digital," thus the integration of the online world with the offline world.
A term, this one, that has taken over especially in the post-covid era. During the pandemic, we became accustomed to an almost exclusively digital world in which contacts were purely from behind a screen. Today, that phase can be considered over, with phygital it is possible to bring together comfort and the technological developments that have been accelerated by the advent of the coronavirus, with the real, physical world that has been missed.
Brands around the world are moving to bring news in this regard. Physical events that are also available in live-streaming, cutting-edge digital fashion week invitations for in-person fashion shows, new digital product launches but with street advertising, and you name it.
In short, in an extremely competitive world where there is a competition for the most distinctive communication, phygital is now a new opportunity to differentiate and to remain imprinted in the consumer's mind with innovative initiatives.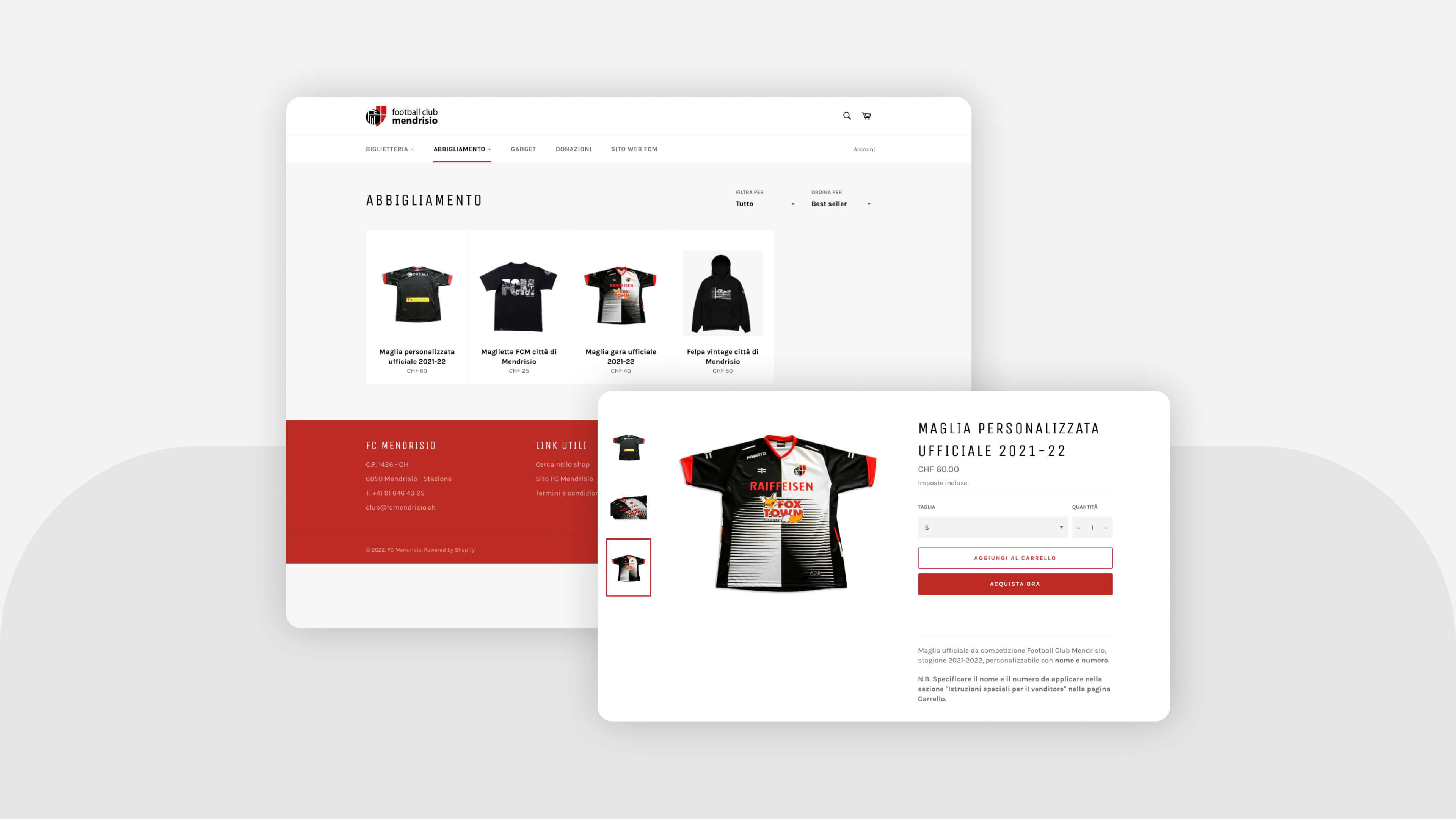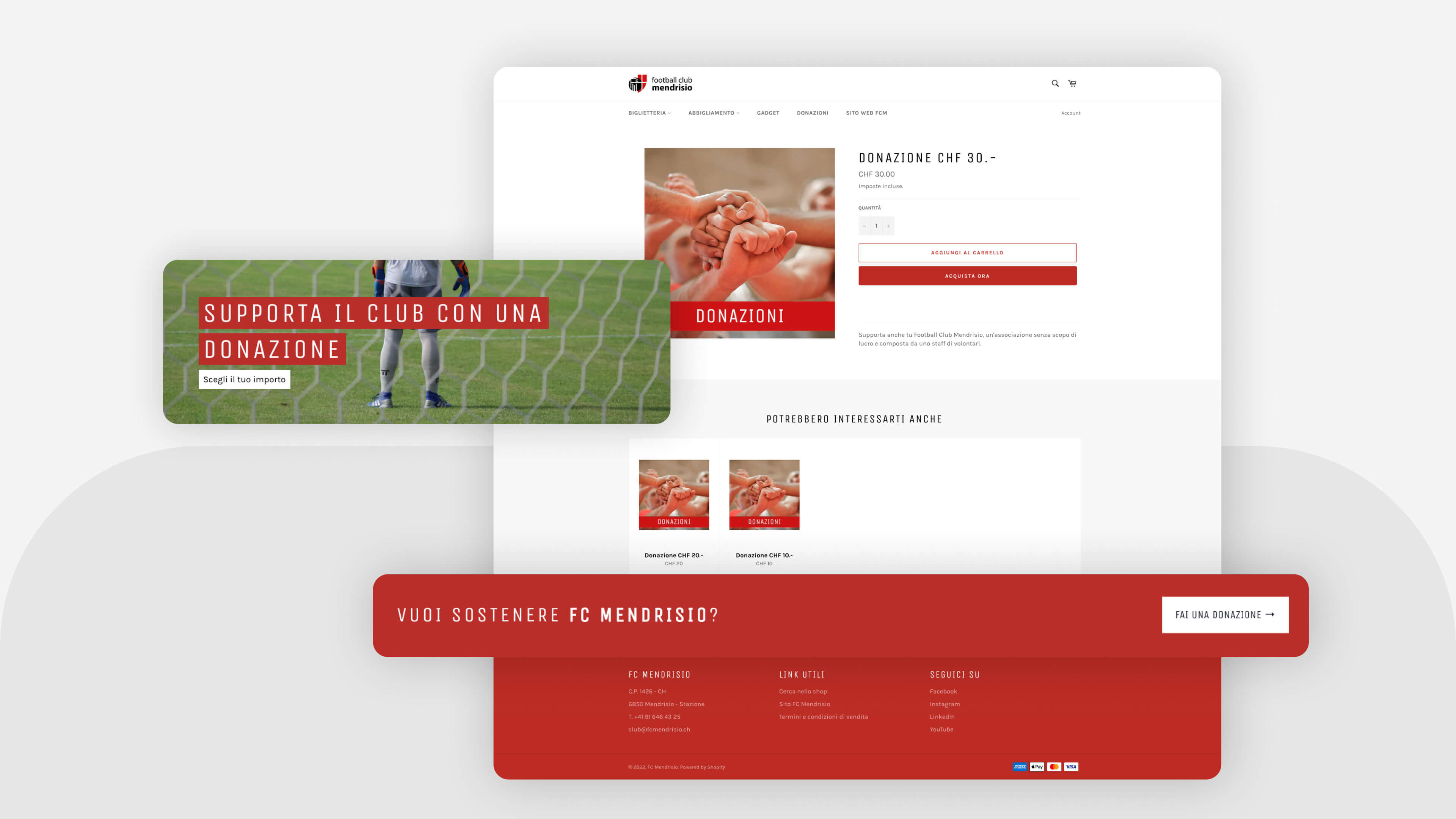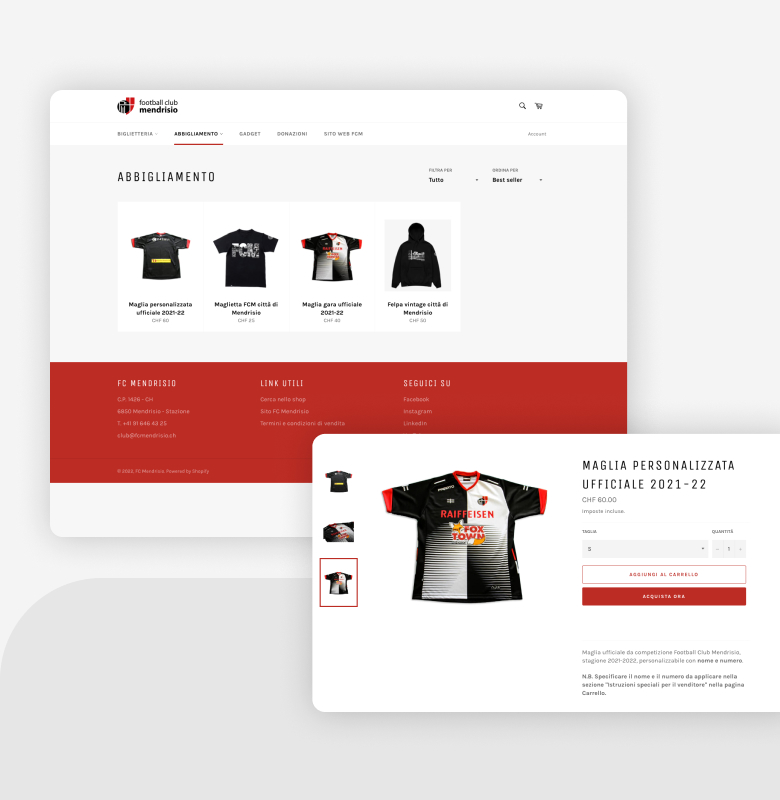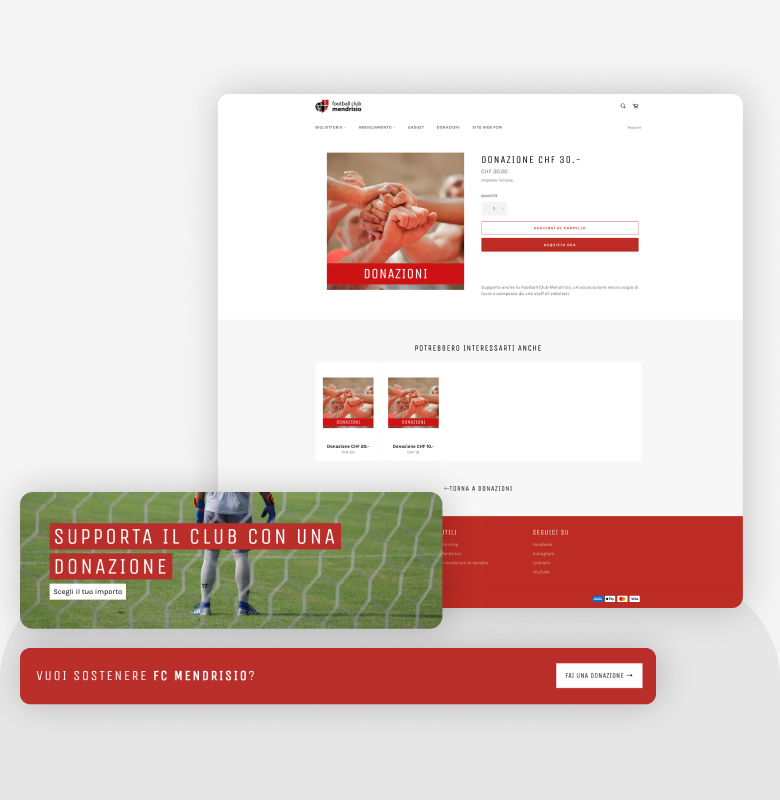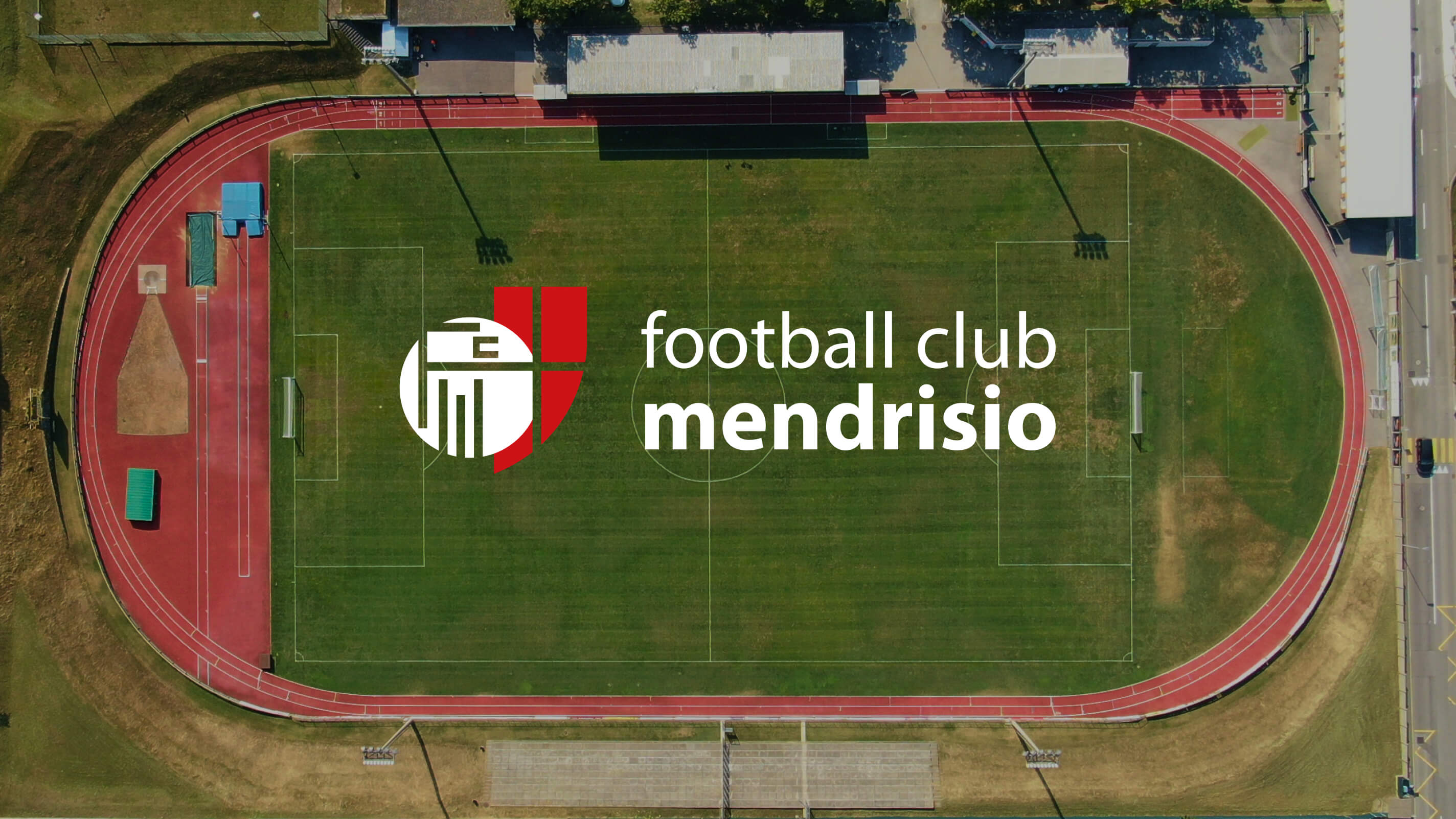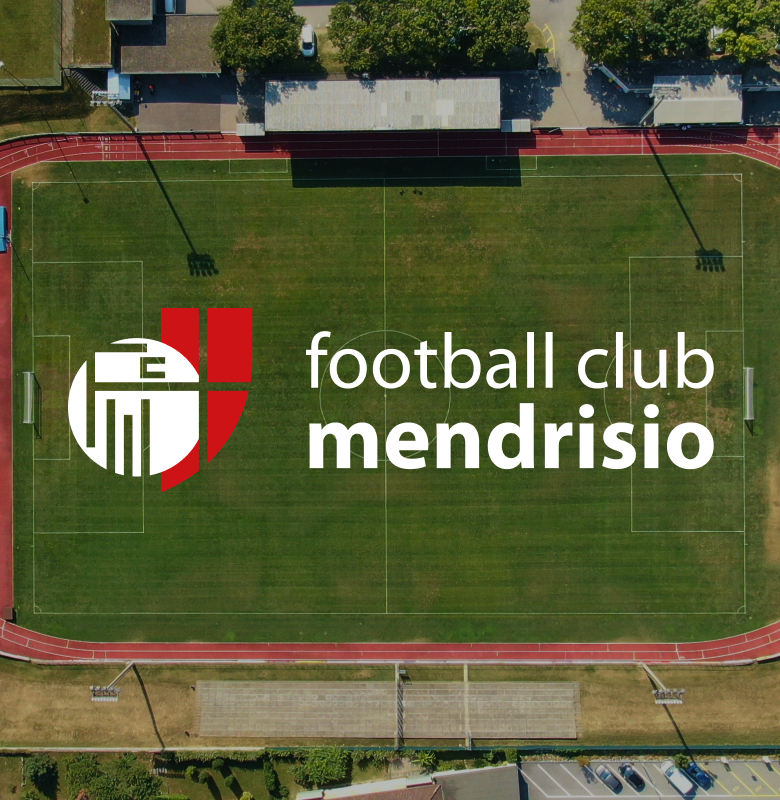 Would you also like to have an effective digital ecosystem? Contact us